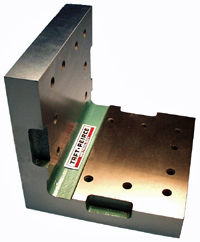 9183-10
Made from class 35-40 cast iron.

Tapped holes for convenient work holding and recessed ledges for clamping to machine tables.

Intersection of the inside faces is relieved for convenience in mounting right angle work.

Locating pins or stops, as well as keyways and work clamping devices, may be added to any working surface.

Ideal for use on multi-station transfer lines.