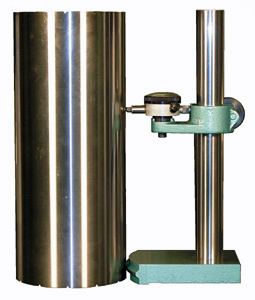 9146
(shown with optional cylinder square)
Base made of hardened stainless steel, 5" x 3-1/2" x 1" thick, serrated on the bottom for self-cleaning action and lapped flat for positive surface plate contact.

Column made of hardened stainless steel, 11-1/16" x 1-1/4" diameter.

Indicator bracket made of seasoned cast iron, with a slot that allows 1/8" horizontal adjustment of the indicator.

1-11/16" diameter AGD Group 1 dial indicator with adjustable bracket-type back, 0.0001" graduations & 0.025" range with 0-5-0 reading dial.

Comes complete with indicator in a finished wooden case with hinged cover.