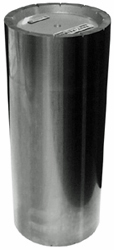 9143-12
Made of high-quality, heat treated alloy steel.

Provides one of the most reliable 90° reference standards available.

Periphery is ground between centers, straight and round within the tolerance specified for each size, with an extremely fine micro finish.

Recessed ends, provided with self-cleaning dirt grooves, are ground and lapped square with the axis.

Supplied in a finished wood case with hinged cover.