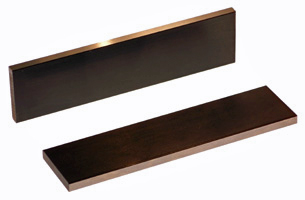 TWP-019





Made of tool steel, hardened to Rc 58-60 and ground in matched pairs on two sides.

Provides an economical alternative to 4-way ground parallels, when only two parallel sides are required.

Size tolerance of the ground height is ±0.001", while being held to a total of 0.0001" between the pieces of a matched pair.

Total parallelism over the 6" length is 0.0001".
MODEL #
LENGTH
WIDTH
GROUND
HEIGHT
WT (#)
PRICE
(US$)
TWP-001
6"
1/4"
3/8"
1

$ 95
TWP-002
6"
1/4"
7/16"
1

$ 95
TWP-003
6"
1/4"
1/2"
1

$ 95
TWP-004
6"
1/4"
9/16"
1

$ 95
TWP-005
6"
1/4"
5/8"
1

$ 95
TWP-006
6"
1/4"
11/16"
1

$ 95
TWP-007
6"
1/4"
3/4"
1

$ 95
TWP-008
6"
1/4"
13/16"
1

$ 95
TWP-009
6"
1/4"
7/8"
1

$ 95
TWP-010
6"
1/4"
15/16"
2

$ 95
TWP-011
6"
1/4"
1"
2

$ 95
TWP-012
6"
1/4"
1-1/16"
2

$ 95
TWP-013
6"
1/4"
1-1/8"
2

$ 95
TWP-014
6"
1/4"
1-3/16"
2

$ 95
TWP-015
6"
1/4"
1-1/4"
2

$ 95
TWP-016
6"
1/4"
1-5/16"
2

$ 95
TWP-017
6"
1/4"
1-3/8"
2

$ 95
TWP-018
6"
1/4"
1-7/16"
2

$ 95
TWP-019
6"
1/4"
1-1/2"
2

$ 95
TWP-020
6"
1/4"
1-9/16"
2

$ 95
TWP-021
6"
1/4"
1-5/8"
2

$ 95
TWP-022
6"
1/4"
1-11/16"
2

$ 95
TWP-023
6"
1/4"
1-3/4"
2

$ 95
TWP-024
6"
1/4"
1-13/16"
2

$ 95
TWP-025
6"
1/4"
1-7/8"
2

$ 95
TWP-026
6"
1/4"
1-15/16"
2

$ 86
TWP-027
6"
1/4"
2"
2

$ 86